Matt's 2023 Harvest Update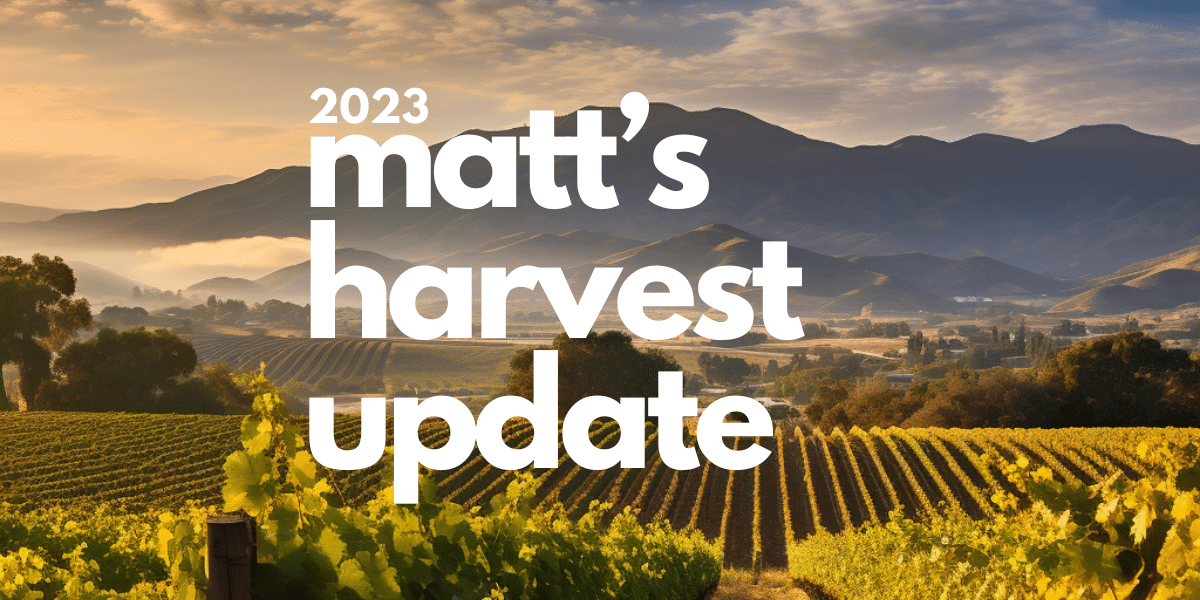 We are finally in the throes of harvest! The 2023 vintage got off to a very slow start, and now that it's started, it's all happening.
Last week we harvested grapes every day, Monday-Friday, completing about 90% of our Chardonnay (final Chardonnay at westernmost Radian vineyard is coming in on Friday), and nearly 50% of our Pinot Noir tonnage.
The weather has been extremely moderate throughout the harvest season . . . until now! We are getting some warm weather this week, and while it won't be extreme heat, it will be the hottest temps our delicate little grapes have seen in months. Because the weather has been so moderate, both sugar accumulation and acid depreciation have been much slower than usual. Most of the Pinot remaining in the vineyard is almost ready . . . sugar and acidity levels are almost in perfect balance. The production team is in full 'hustle mode' to bring fruit in all this week so we can 'beat the heat'.
Rhone varietals are still a little further behind. Zotovich Vineyard Syrah, for example, is still at 17 brix. Typical sugar accumulation is 1.5 brix per week. By this metric, we still have about 3.5-4 weeks to go, approx. Nov 1. For reference, in 2022, Zotovich Syrah was harvested on October 6. My gut tells me we'll harvest sooner, but maybe we won't!
I have a huge amount of optimism for the quality of the 2023 vintage! The extra-long hang time, the combination of ripe fruit and high acid, and the lower-than-average yields giving us intense color and big flavors, provide the components for what could be an extra magical vintage. All my SB winemaker amigos and amigas are feeling the same way. 2023 has been a challenging year (cold, wet, mildew pressure, low yields, high vigor), but has the potential to be amazing.
Big thanks to our winemaking crew this year! Neal has been working as hard as ever and is doing a great job leading the crew. We're grateful to have seasoned harvest veterans Julie and Alex helping for their third vintage . . . thank you! Caty and Jack have been a great addition to our team, and really impressive given that it's their first harvest. They've proven to be quick learners and hard workers with great vibes all the while. Thank you, guys! And thanks to Kristen for the weekend support with lab numbers and punch downs!
Every harvest has 3-4 weeks of craziness and that's where we are, right smack in the middle of Week 2. We'll keep our foot on the gas through next week with post-heat harvesting, and then it will REALLY feel like harvest 😊.
If anyone is interested in helping, please send me an email.
Thanks to everyone for all their help, hard work, and great attitudes during this busy time!
Cheers!
Matt Brady